W#1
Squat cycle:
4 x 3 @80% of 1RM Front squat
1 x max reps @ 80% of 1RM Front squat
3 x 10 @50% of 1RM Front squat
W#2
10 min AMRAP
200m run
Max reps HR push ups
Your score is your total reps on push ups
Access WOD ARCHIVE
NEWS
Our CrossFit beginners classes starts on the 16th this month - 4 classes over 2 weeks, providing you with the confidence to start your functional fitness journey.
Classes will run at our Phillip gym on Tuesday at 6.30 pm and Thursday 7.30 pm, for two weeks commencing 16th of August.
The program is great value at $80 for four sessions, with no obligation to join. If you decide to join the CrossFit Smash family after the program concludes, you'll receive a week free to try out your new skills.
To book contact Greg on 0413 805 867 or Bernie on 0413 805 867
Email info@crossfitsmash.com.au
About CrossFit Smash
At CrossFit Smash we have built our community on working hard, training safely and supporting each other. At both CrossFit Smash locations we focus on:
mastering the basics
good technique while performing movements at all times
working as hard as possible based on your own ability
supporting your fellow CrossFit Smashers
enjoying your workouts
What is CrossFit?
CrossFit is a strength and conditioning program incorporating gymnastic, bodyweight, power lifting, Olympic lifting and endurance components to provide a complete fitness experience. CrossFit is programmed to be broad, generalised and inclusive of all ages and skill levels and can be summed up by constantly varied, functional movements performed at high intensity. Not only that but all of our programmes can be both scaled up and down depending on your skill or fitness level.
CrossFit Smash Phillip Sessions
MONDAY
05:30-06:30 - WOD
06:30-07:15 - EXPRESS WOD
FREE TRIAL
17:15-18:00 - OPEN GYM
18:00-19:00 - WOD
TUESDAY
05:30-06:30 - WOD
06:30-07:30 - OLYMPIC LIFTING
12:10-12:55 - EXPRESS WOD
17:30-18:30 - WOD
18:30-19:30 - WOD
WEDNESDAY
05:30-06:30 - WOD
06:30-07:30 - OPEN GYM
17:30-18:30 - OPEN GYM
18:30-19:30 - WOD
THURSDAY
05:30-06:30 - WOD
06:30-07:15 - EXPRESS WOD
12:10-12:55 - EXPRESS WOD
17:30-18:30 - WOD
18:30-19:30 - OLYMPIC LIFTING
FRIDAY
05:30-06:30 - WOD
06:30-07:30 - GYMNASTIC/MOBILITY
17:00-18:30 - OPEN GYM
SATURDAY
08:00-09:00 - FREE TRIAL
09:00-10:00 - WOD
At CrossFit Smash Phillip we have a wide range of session times with mulitple classes a day. All sessions start at the nominated time, best if you arrive a few minutes early so the class is ready to go on time.
Pricing
Special Offer – Join with a friend get 50% off your first month
Induction
This is a 1 hour small group session where your coach will go over all the fundamental movements necessary to get going in our CrossFit classes. If you are new to CrossFit this is the place to start head to the "Get Started" section to sign up for a free trial. If you are already an experienced CrossFitter give us a call or drop in for a class.
CrossFit Membership
Armed Service, Police, Fire Brigade and Ambulance Membership
Family membership
$55 per week
$50 per week
$50 per family member per week
One off casual visits
10 Pack of passes
Single month
$25

$200

$280
For all memberships you are entitled to attend as many CrossFit Smash WODs X-WODs and Open Gym sessions as you like, in either location, CFS Phillip or CFS Canberra City.
To make things easy, payment is via fortnightly direct debit.
Getting Started
Try it Out
At CrossFit Smash we run free induction sessions at both of our locations each week. During these sessions we teach you the fundamental CrossFit movements to help prepare you for future workouts and we also run a typical WOD (workout of the day). It's the perfect way to get a feel for the class and the safest way to integrate newcomers to CrossFit. From there you can jump straight into our WOD class. If you want to spend a bit of time developing your technique, start out with our WOD Basics class for beginners, or our Olymipic Lifting class.
FREE CrossFit induction class
City:
Book in for your induction class now! Running Tuesday @ 1800 & Saturday @ 0800. Click HERE to book in, any questions CONTACT <<< us here.
Phillip:
Book in for your induction class now! Running each Monday @ 1700, Wednesday @ 0630 & Saturday @ 0800. Click HERE to book in, any questions CONTACT <<< us here.
Experienced CrossFitter?
If you have trained at another CrossFit box and know your way around a CrossFit class you can just jump in and join us.
Contact us - info@crossfitsmash.com.au or call Greg 0413 805 867.
Events
Smash Clash 2015
SMASH CLASH UPDATE 19/11
Rego - Opens 7.30am through to 8.30pm
Event Briefing - 8.30 to 9.00am
We will be going over all events and movements and will be fielding any questions
Warm up for Heat 1 9.00 - 9.15
Workout 1 Heat 1 begins 9.15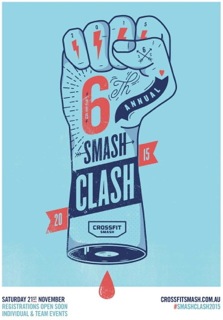 The Ultimate Canberra CrossFit Event
Individual Events: Male and Female
Team Events: Teams of 2, same sex or mixed
All workouts can be scaled, so let's do it!
1 Day • 3 Workouts • 1 Winner
Date: 21 November 2015
Venue: CrossFit Smash
Ground Floor
7 London Circuit (on Farrell Place)
Canberra City
ACT [map]
Schedule:
There is ample parking opposite Smash HQ on London Circuit. Cafes/Supermarkets/Stores all within walking (<10min) distance.
0730 and 0830 – Check In
0830 – Day Schedule and Workout Briefings
0900 – Workouts Begin
1700 - Smash Clash Presentation
1930 – Smash Clash 'Smash Smash' After Party - Hopscotch
Individual and Teams of two (Male/Female or Mixed Team)
Registration options are:
Rego only: $70
Rego plus T-shirt: $100
Smash Clash 2015 T-shirts sold on the day for $35
Numbers will be capped - GET EXCITED!!!
Online rego is now closed!
PLEASE NOTE: Steps 1 and 2 need to be completed in order for your registration to be finalised.

Step 1: Register and pay online

Click here and select the Smash Clash tab to enrol in either the Individual or Team category.




* Please note for Team registrations that EACH athlete has to register

and pay separately.




Step 2: Complete the e-form




Click here and complete all questions on the e-form.




* Please note for Team registrations that EACH athlete has to complete a separate e-form

.